25,000 Miles of Blue Water Sailing aboard the Antares
First-hand knowledge brings new insights to the development and building of the Antares
For some people sailing is in their DNA, and for Memo Castro – owner and builder of Antares Catamarans – sailing is as natural to him as breathing. In fact, Memo's first race was when he was just 4-months old, tucked in a small sling hanging from the deck of his father's boat.
And like that cradle swaying on the boat, Memo was hooked on sailing. Once he was old enough to stand on his own two feet, he started racing in local classes, eventually making his way up to helmsman on larger boats by the age of 16. And in 1987, Memo was invited to test his skills on the first ever Argentine-built vessel to sail the notoriously grueling passage to Cape Horn on a 28-foot steel boat. This would be just one of two Antarctica trips that were part of an impressive sailing portfolio that included races in Europe, South America, and most notably, a double-handed race from Argentina to Cape Town, South Africa through the relentless roaring forties. Yes, he was hooked.
While it would be difficult to calculate the total sailing miles under his belt, Memo is currently clocking the miles on his third passage from Argentina to the US aboard Antares s/v HALO, completing 25,000 miles of blue water sailing aboard the Antares.
This first-hand knowledge has brought new insights to the development and building of the Antares. Improvements and innovations in building materials, as well as new technologies and components have steered the Antares in new directions that were simply not possible several years ago.
Having on-board experience on long passages has proven invaluable to the evolution of the Antares. Everything from provisioning and power management, to the ergonomics of movement aboard, hydrodynamics, line handling and positioning of the tracks, are 'field' tested over and over again. That and feedback from past and present owners play a crucial part in the continuous evolution of the Antares.
Since taking the helm in 2008, there have been continuous improvements to the production process, and more recently, enhancements to the mainsheet system, the Genoa and Screacher sheet management, the longer boom that's fit with a lighter MainTamer assembly, and so much more.
Memo's career has never veered far from sailing – from starting his own sail loft company along with partners to working with North Sails Argentina where he raced different offshore vessels in South America and set up a new Rigging and Deck Handling Management division, his entire life has been dedicated to sailing and building boats.
Currently, he is on the second leg of the 6000 mile passage to the US – there is no doubt that during this time he'll be inspired to push development even further to benefit the next Antares in the production line.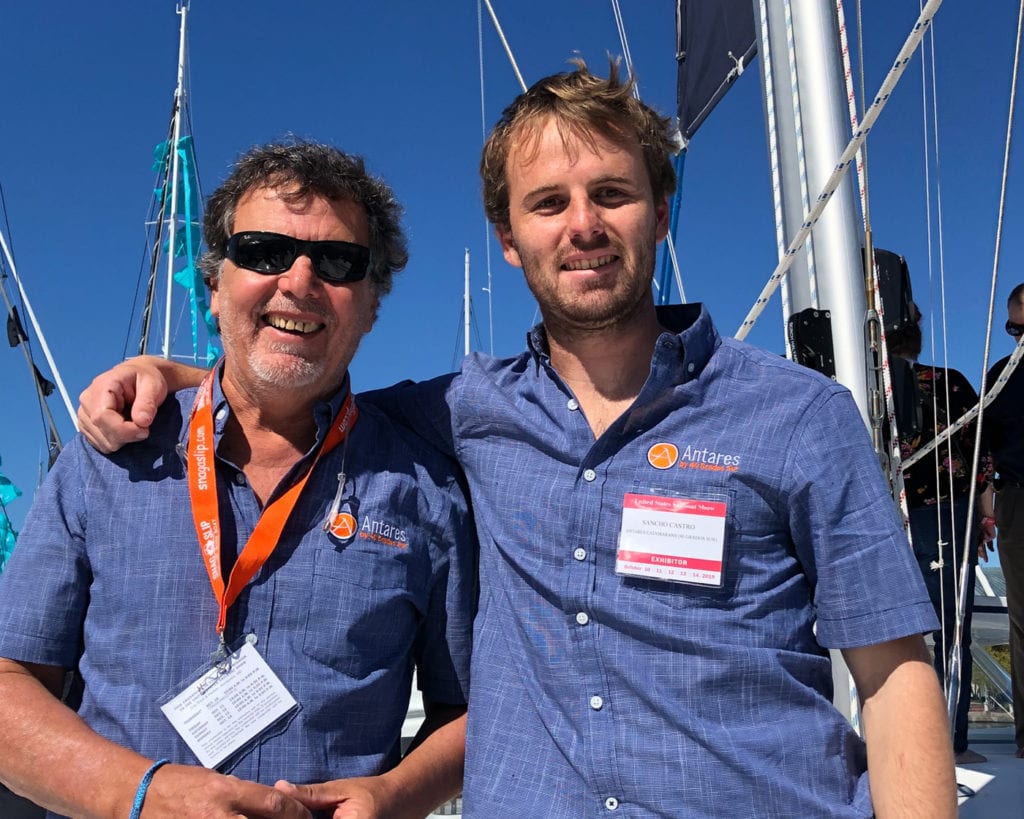 And in case you are wondering, the apple doesn't fall far from the tree! His son Sancho, who is an integral part of the Antares team, also started sailing at a young age – but instead of a sling, he was strapped into a baby car seat. He has since earned many accolades – including winning a two-time world championship of the "Cadet" class sailing dinghies in Hungary and in England. And following closely in his father's footsteps, he's already clocked more than 4000 miles aboard the Antares.
Be sure to follow us on Facebook and Instagram where we will be updating Memo's progress aboard the newest Antares s/v HALO.